About Craig E. Caldwell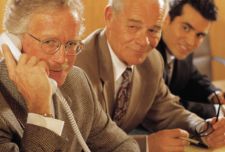 Craig is a graduate of the University of Southern California where he received a Bachelor of Science Degree in Urban Studies, and a minor in Business Administration. While at USC., Craig was elected Men's Student Body President, served as President on the Student Senate and received the Robert Fenton Craig award for "Most Outstanding University Student".

Since 1976, Craig has been actively involved in business in Southern California as an owner, executive and private investor. Craig's primary focus has been in the purchase, reorganization and sale of financially troubled companies, for which he has successfully completed over 50 different projects. A few examples:
| | |
| --- | --- |
| | Riccar America, Inc. - Operating 3,500 retail stores which sold sewing machines and vacuum cleaners. |
| | Stadium Motor Sports, Inc. - a corporation that sponsored motor cross events at Anaheim Stadium, Meadowlands, L.A. Coliseum and in San Diego. |
| | Associated Helicopter, Inc.- a fleet of helicopters hired out for service |
| | Tempo One-Stop - a $100 million company that distributed CD's and DVD's |
| | Altamirco - a Real Estate holding company with assets in land and apartments. |
Additionally, he has completed over 100 successful real estate projects, including residential, commercial and industrial projects, throughout the United States. He is also the founder of eight operating businesses that operate primarily in inner city Los Angeles.

His experience has included serving in senior management positions and as a member of the board of directors of numerous corporations, including Riccar America, Inc., Chairman; Associated Helicopter, Inc., Chairman; Stadium Motor Sports, Inc., Chairman; Western National Bank, Chairman; Loyola Marymount University, Board of Regents-Chairman; C&W Imports, Inc., Chairman; Hollywood Presbyterian Medical Center; Van Vorst Corporation; Stone Mountain Tree Farm, Chairman; and Beacon Escrow Company.

In addition to still being involved in various business ventures, Craig has devoted a substantial amount of his time and energy to community involvement. In the late nineteen-eighty's (1980's), Craig was honored by the NAACP for his charitable efforts in the fight against drugs and hunger and for his support for the homeless in Los Angeles.
Craig's Community Service:
A partial list of Craig's community activities, include the following:
Loyola Marymount University
Chairman-Board of Regents - 8 years
Vice Chairman - Board of Regents
Chairman of Nominating Committee
Member of Executive Committee
Commissioner: committee to plan the future of the University

Hollywood Presbyterian Medical Center
Board of Directors
Fund raising and general policy direction - 8 years

University of Southern California - Trojan Board
Support for Women's Athletic Program - 2 years

Baptist Church program
Nickerson Gardens, Los Angeles , CA
Program to feed approximately 10,000 needy individuals
Active participation – 2 years

Gang Summits
South Central Los Angeles, CA
One of three men who made history by putting together a nation wide gang summit between the notorious "Crips" and "Bloods", later used as a prototype for other gang summits. Only Caucasian invited by Rev. Charles Mims to participate in 1988 gang summits held to reduce gang violence.

Los Floristas, Inc.
Los Angeles, CA
A prestigious organization that supports the clinic for handicapped children at Rancho Los Amigos Hospital -18 years

Friends of Child Advocates
Board of Directors
Los Angeles , CA
Liaison between courts and children involved in abuse cases

California Museum Foundation
Los Angeles, CA
Support group for California Museum -7 years

Achievements Rewards for College Scientists (ARCS)
Los Angeles, CA
Executive Board Member - 9 years

Kappa Sigma Fraternity
Campaign Chairman for raising funds to build a new fraternity house at University of Southern California